Cotton Candy Stickers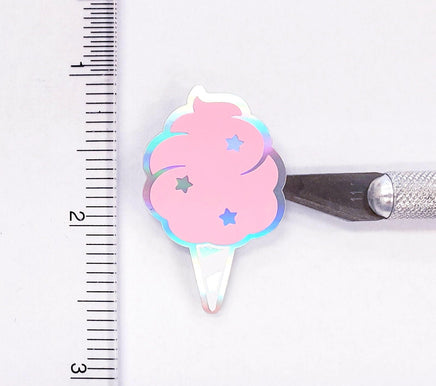 Introducing our delightful set of 20 small peel and stick pastel pink cotton candy stickers! Each sticker measures 1.5 inches tall by about 1 inch wide, making them perfect for adding a touch of sweetness to any project. These adorable cotton candy stickers feature a charming design with a light pink color and a white striped cone. The silver holographic outline and a sprinkle of stars adds a touch of shimmer and magic to each sticker, making them truly eye-catching.
● Pink Cotton Candy Stickers
● Sizes of each = .90"W x 1.5"H
● 20 stickers per sheet.
● Sheet size: 5 x 7 inches.
● Permanent adhesive vinyl.
● Kiss-cut (peel & stick).
Whether you're a planner enthusiast looking to decorate your journal, a DIY lover in need of cute embellishments, or simply someone who appreciates the whimsical charm of cotton candy, these stickers are a must-have. Create enchanting scenes, decorate party invitations, personalize your stationery, or add a playful touch to your crafts - the possibilities are endless. These stickers are made with high-quality materials to ensure their durability and easy application.