Glitter Strawberry Stickers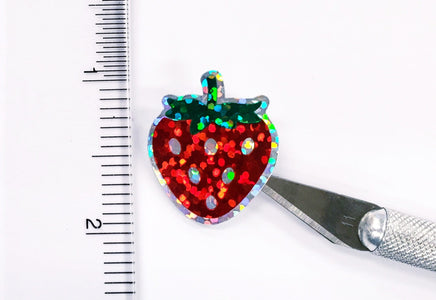 Add a touch of sparkle and sweetness to your life with these delightful small red strawberry glitter stickers! Perfect for decorating your planner, laptop, phone case, or any other surface, these stickers are sure to bring a festive pop of color and shine. With their vibrant red hue and shimmering glitter accents, these stickers are guaranteed to bring a smile to your face and add a touch of fun to your day. So why wait? Add some fruity flair to your life with these oh-so-cute strawberry stickers!

The red strawberry stickers will adhere to signs, planners, laptops, drink cups, envelopes, scrapbooks, phone cases, laptops, keychains, ornaments, plastic, metal, glass, painted wood and many more smooth surfaces. Any sticker that is applied to drinkware should be handwashed, not placed in dishwasher. Glitter stickers are smooth to the touch and do not shed glitter.
● SIZE: each measure 1"H x 1"W
● SHAPE: strawberry
● MATERIAL: adhesive vinyl
● COUNT: choose amount